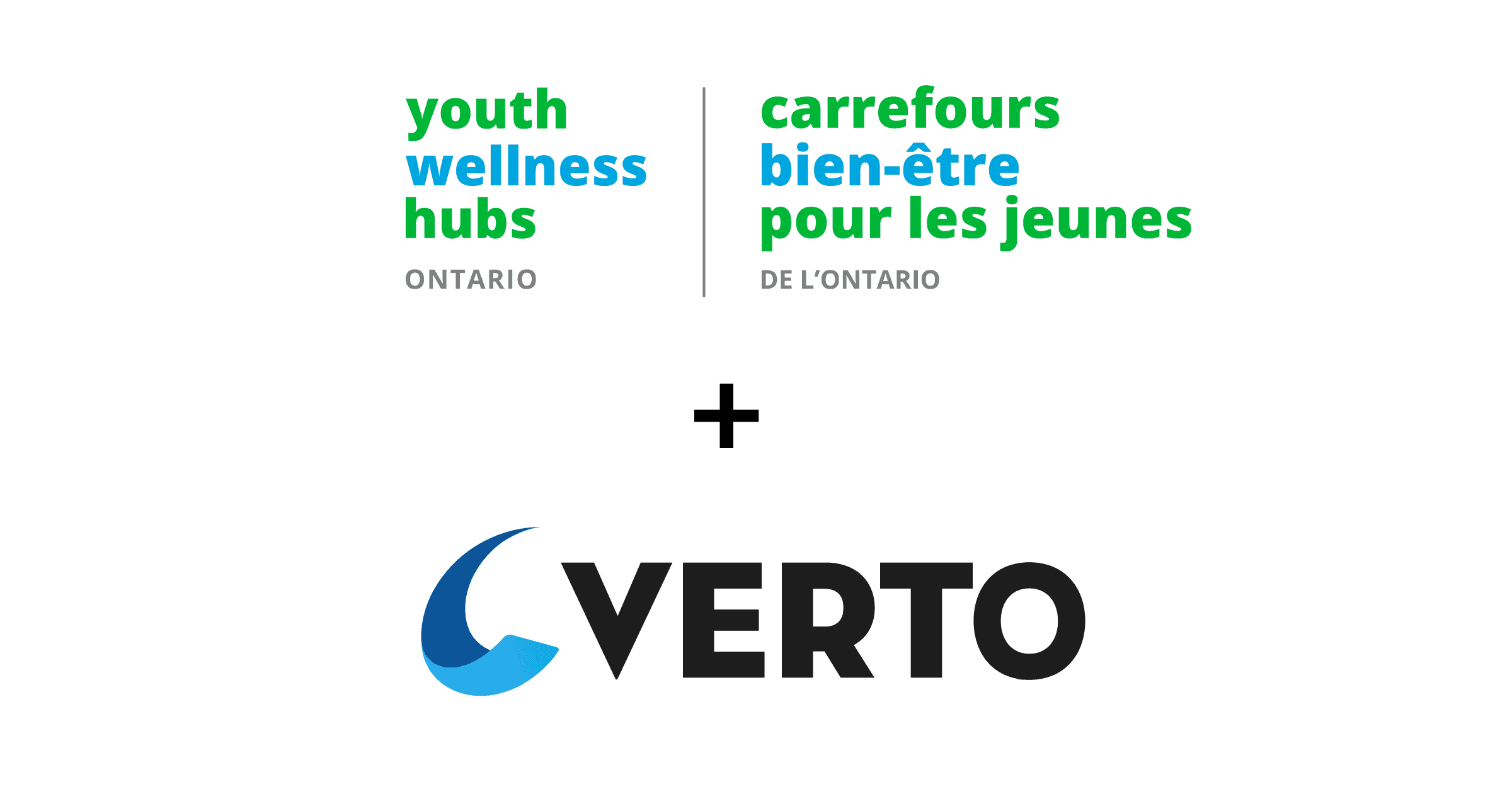 Company
Youth Wellness Hubs Ontario and Verto Health Partner to Improve Access to Mental Health Services for Youth Across Ontario
March 15, 2023 (Toronto, ON) – Announced today, Youth Wellness Hubs Ontario (YWHO) and Verto Health are partnering to improve access to high quality Integrated Youth Services (IYS) for youth aged 12-25 years across Ontario. Together, YWHO and Verto Health will co-design and launch a unified digital YWHO front door and client portal, which will provide a range of developmentally and culturally appropriate Integrated Youth Services for youth and their families.
The YWHO Virtual platform will be a web-based platform that provides young people, safe, secure, and timely access to mental health and substance use services, as well as other primary care, community, and social support services. The goal is to improve access to YWHO's Integrated Youth Services for young people in Ontario, for whom in-person hub services are not an option, including youth who currently do not have a youth wellness hub nearby, or youth who would rather receive services online.
"We are thrilled to partner with YWHO to help them coordinate the delivery of much-needed integrated mental health services to youth," said Michael Millar, CEO and Founder of Verto Health. "The pandemic severely disrupted the lives of young Ontarians and demand for youth mental health services has never been higher as a result. We strongly believe that our technology has the power to positively improve the way youth access mental health care services, and we are excited to support YWHO's essential work across the province."
There are 22 YWHO Hub Networks across the province operating 30 hub locations. These hubs bring together local service providers to work together in a new way to deliver treatment and social supports for youth aged 12 to 25 using the Integrated Youth Services (IYS) model of service delivery. YWHO hubs offer low-barrier access for young people seeking mental health and substance use treatment, primary care, social services, and more. Verto Health is a Canadian leader in digital twin technology for healthcare.
Verto Health will work with YWHO, youth, and families to co-design the virtual tools needed for YWHO Virtual. The ultimate goal of co-designing the platform is to create a client portal that enables youth and families to access YWHO services from wherever they are in Ontario. This includes transition-aged youth who move for work or school and those living in rural or remote communities. The tool will allow them to connect to YWHO services when a local in-person hub is not yet available in a format that seamlessly complements the in-person experience.
"For more than a decade, youth and families have been asking to co-design youth mental health treatment and other support services so that services better meet their needs," said Dr. Jo Henderson, Executive Director of YWHO. "We are very excited to partner with youth, families, service providers, and Verto to bring to life a co-designed YWHO Virtual service. YWHO Virtual will extend access to Youth Wellness Hubs Ontario's integrated youth services model, enhancing our ability to support Ontario's youth in achieving their best outcomes."
The three-year partnership between YWHO and Verto kicked off in late 2022, with the first go-live pilot of the project expected within the first year.
About YWHO
Youth Wellness Hubs Ontario (YWHO) is a network of 22 local hubs that provide integrated services co-designed with youth for youth in over 30 communities across the province. YWHO brings together local service providers to address gaps in the youth mental health and substance use service system by providing access to integrated services, treatment and support for young people aged 12-25, including mental health and substance use treatment, primary care, education, employment, housing, peer support, outreach, system navigation, and other community and social programming. Through a commitment to rapid and low-barrier access, early and evidence-based interventions, equitable and culturally effective services, and meaningful youth and family engagement, YWHO is taking a critical step forward to improve Ontario's youth mental health system. To learn more about Youth Wellness Hubs Ontario, visit www.youthhubs.ca or @YWHOntario on Facebook, Instagram, and Twitter.
Contact:
YWHO Communications
[email protected]
www.youthhubs.ca
About Verto Inc.
Verto Inc. is a rapidly growing Canadian digital health company offering a Digital Twin Orchestration Platform. Verto's patented machine learning technology consolidates data from nearly any technology or database to create normalized, contextual snapshots – 'Digital Twins' – of each patient's healthcare journey. Verto then automates actions across different systems while securely managing consent, data, and communication. Verto's team consists of health informaticians, technologists, and clinicians who are passionate about creating bold and disruptive solutions to help every person reach their best personal health outcome. Learn more at https://verto.health.
Contact:
Adam Rogers-Green
Director, Marketing & Communications
[email protected]